My Direct Bikes Review
I thought I would write a review about my direct bikes experience:
I decided last year that I had enough of public transport and decided to get a scooter. I wouldnít have to get the bus anymore and would be more economical than my oyster card.
I have been looking around on the net for a while for a 50cc scooter to take me to work and found direct bikes. Direct Bikes operate from website www.scooter.co.uk. I wanted a scooter to take me to work in central London. It had to be reliable with parts availability if needed. I ordered a Direct Bikes 50cc sports scooter in grey, the site is quite straight forward.
The scooter arrived 2 days latter, the direct bikes courier arranged a suitable time prior to delivery. Phew, I did not have to stay in all day. He arrived on time and delivery was good.
The direct bikes scooter arrived very well packaged, I checked over the bike. In instructions were adequate. I just has to put on wing mirrors and attach battery, took around 10 minutes to do.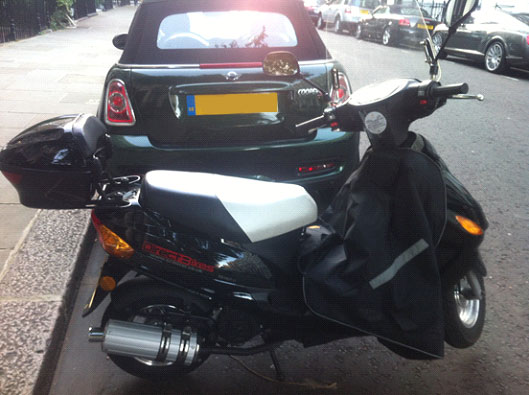 Unfortunately I did not have any petrol, so went off the petrol station to get some, filled up. Fingers crossed, I hit the start button, started first time!
Sent registration pack supplied to DVLA and got it back 5 days later, bike registered - now I am ready to ride...
I have ridden quite a few bikes in my time, the direct bikes scooter handles very similar to more expensive scooters like vespa. The brakes were responsive, acceleration swift and lasted a very long time on one tank of fuel.
I have a full car licence, it was issued in 2002, I needed to complete a CBT, it took around one day. If you have a full driving licence before 2001 you donít need to take a test for 50cc. The rest of the costs are relatively low, I live in London and scooters donít have to pay congestion charge. Parking is also free in most places in central London. So not too bad at all.
Replacement parts are available direct and got a replacement brake light, some idiot smashed, delivered next day.
Would I recommend direct bikes? My experience was very positive; Iíve had the scooter now for 11 months. I am quite a fussy customer and donít usually do reviews, I have had no issues at all and would recommend.